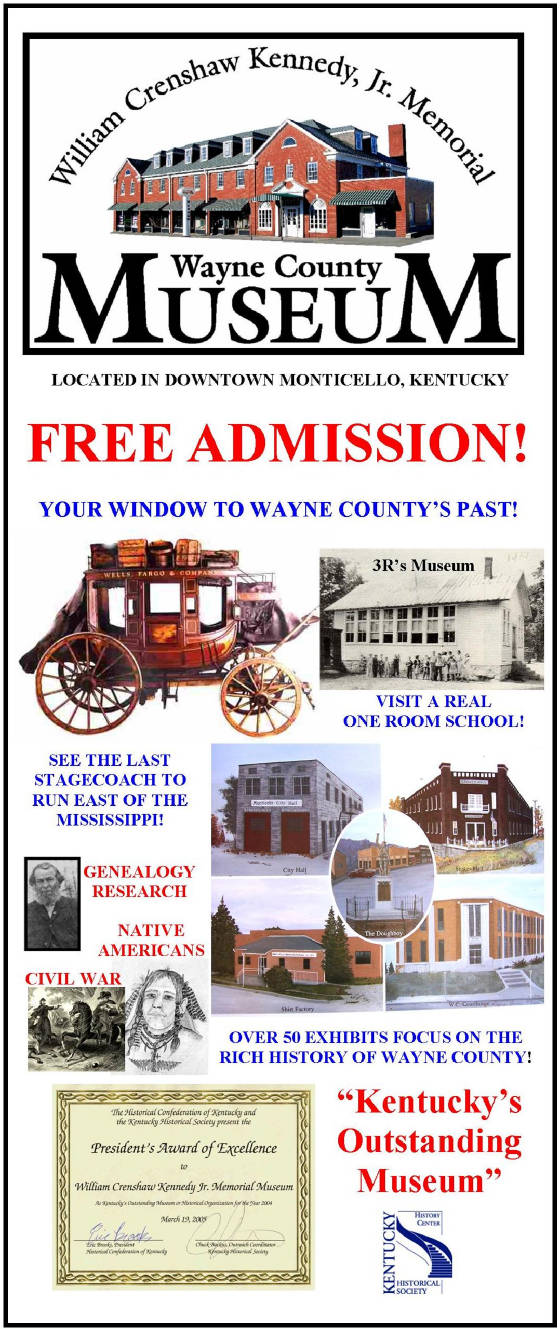 WILLIAM CRENSHAW KENNEDY, JR.
The Museum is named in memory of William Crenshaw Kennedy, Jr., the son of Rosemary Kennedy Shields. Mr. Kennedy has roots that run deep in the history of Wayne County, Kentucky. The ancestral chart below will give you some information concerning those roots:
lWilliam Crenshaw Kennedy, Jr.
l(Mother) Rosemary Shields Kennedy
l(Grandmother) Louise Marcum
l(Great Grandfather) Ephraim Marcum
l(Great, Great Grandfather) George Kelly Marcum---Wayne County Judge from 1860 to 1862 and in 1867.
(Mildred Dalton, Louise Bell, Carl Bell, and Fred Francis are some relatives of William Crenshaw Kennedy, Jr. who still live in Wayne County)
THE WAYNE COUNTY MUSEUM
THE WILLIAM CRENSHAW KENNEDY, JR.
MEMORIAL MUSEUM
IS A MEMBER OF
THE
KENTUCKY HISTORICAL SOCIETY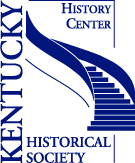 HOURS OF OPERATION
THE WAYNE COUNTY MUSEUM
IS OPEN
EVERY
TUESDAY THROUGH SATURDAY
10:00 A.M. TILL 4:00 P.M.
OR BY APPOINTMENT
(Call For Appointment)
Our Executive Director/Curator and Museum Committee members have pledged themselves to implementation of the following CORE VALUES:

PEOPLE come first and are treated with dignity and respect.

RELATIONSHIPS are built on honesty, integrity, and trust.

DIVERSITY of people and thought is respected.

EXCELLENCE is achieved through teamwork, leadership, creativity, and a strong work ethic.

EFFICIENCY is achieved through wise use of human and financial resources.

COMMITMENT to intellectual achievement and historical accuracy is embraced.