It has been my pleasure to write a few books and I would like to make them available to any of you who might like a copy. Below you will find a review of each volumn. If you have questions about the books, please contact me by e-mail.
ANOUNCING!
NEW BOOK EDITED BY HARLAN OGLE
"I'M JUST A PEACEFUL MAN
LOOKING FOR A PEACEFUL PLACE"
-The Poems And Songs Of Donald Ferguson-
I've just completed a project that I've worked on for some months.
As a teenager, I remember Donnie, Anne's son, staying at our home in Columbia, Tennessee. Mama helped to care for him for some time.
When he later went to Toledo, I lost contact with him for years. In 1985, he was killed in an automobile accident.
While visiting recently with Donnie's Mom, she allowed me to have access to many of Donnie's poems and songs.
I did some light editing of the poems for publication and placed 16 of his original songs on a CD.
The book is entitled "I'M JUST A PEACEFUL MAN LOOKING FOR A PEACEFUL PLACE."
The CD is placed in a sleeve in the back of the book.
I understand that the book will only have limited appeal but it is something that needs to be circulated among Donnie's family and friends.
If you are interested in obtaining a copy of the book and CD, please email me.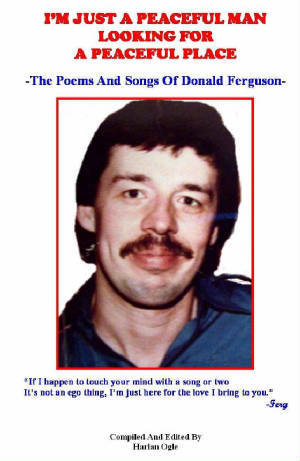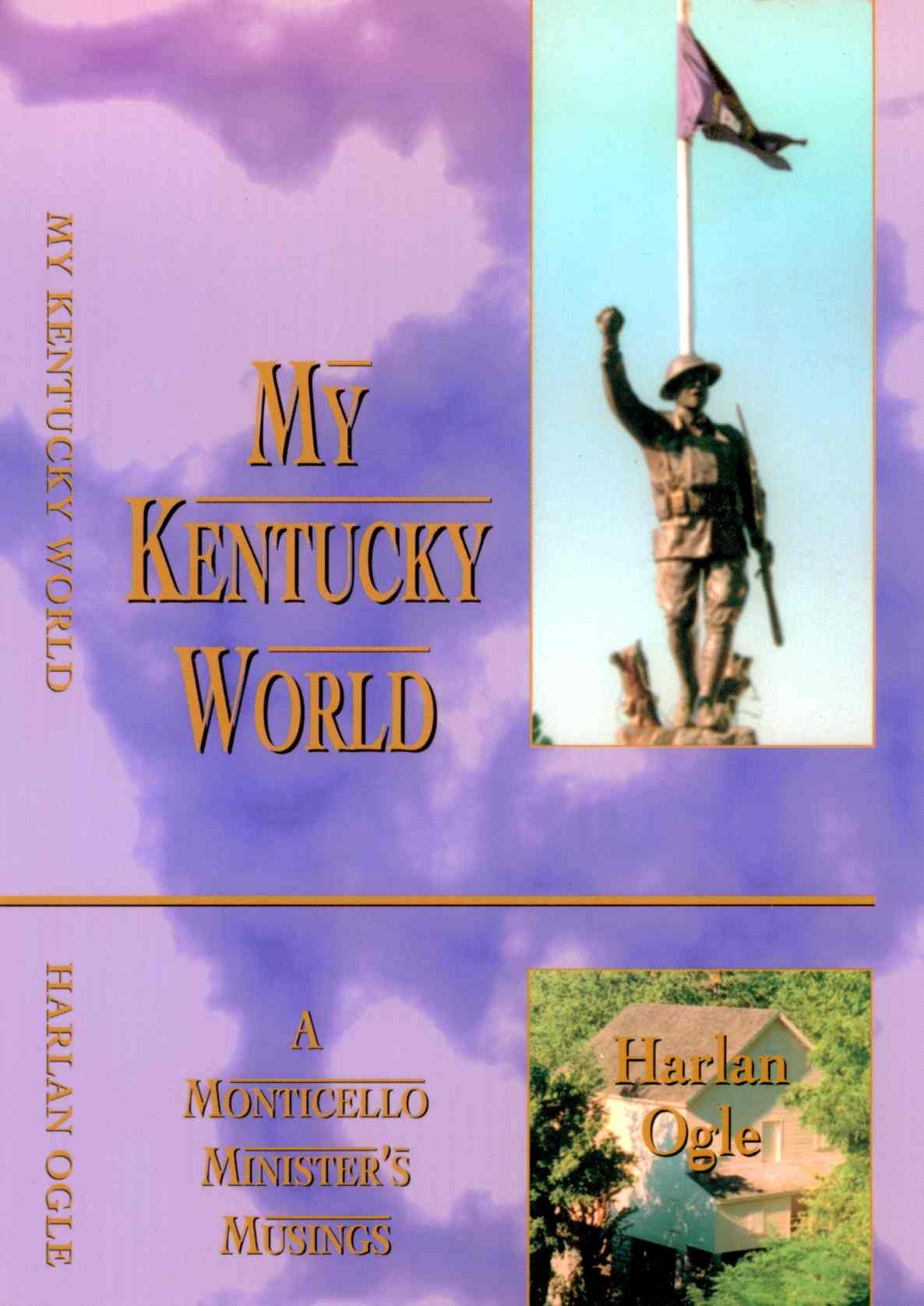 I have had the privilege of being a columnist for the WAYNE COUNTY OUTLOOK in Monticello, Kentucky, for over a decade. The column entitled, "A Monticello Minister's Musings" appears weekly. There are readers in many states and some of the "musings" have been printed in several national magazines. "MY KENTUCKY WORLD" is a collection of fifty of the most popular columns. The chapters include: "Good Women I've Known"---"Woman Kills Local Preacher"---"Pistol Packin' Preacher"---"Married Life, How Sweet It Is"---"What In Hell Do You Want?"---and "I Ain't No Dummy."

There are 126 pages in the book and it sells for $9.95 plus $4.00 Postage and Handling.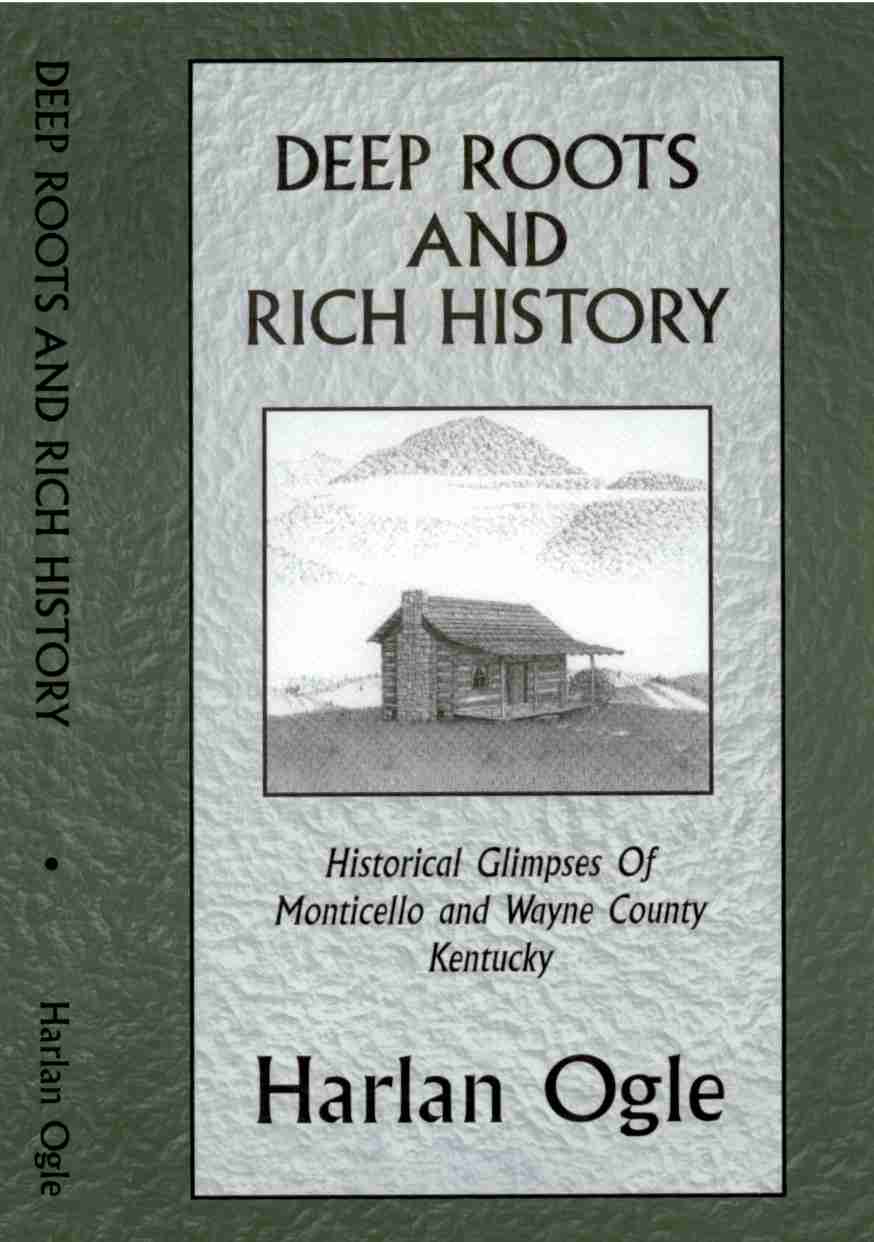 "DEEP ROOTS AND RICH HISTORY" takes the reader on a journey back into time when the nation was populated with people called "pioneers." Located in south central Kentucky, along the banks of the Cumberland River, is a community with a legacy that invites the historian to come and "sit a spell." Wayne County with its county seat, Monticello is brimming with stories that caputre the imagination.
Chapters include: "Indian Tales of Chief Doublehead"---"The Continuing Saga Of Revolutionary Soldiers"---"The Untimely Death Of A Confederate General"---"The Last Stagecoach Run East Of The Mississippi"---"Death By Hanging"---and "Prisoners Of War".
There are 156 pages in the book and it sells for $9.95 plus $4.00 Postage and Handling.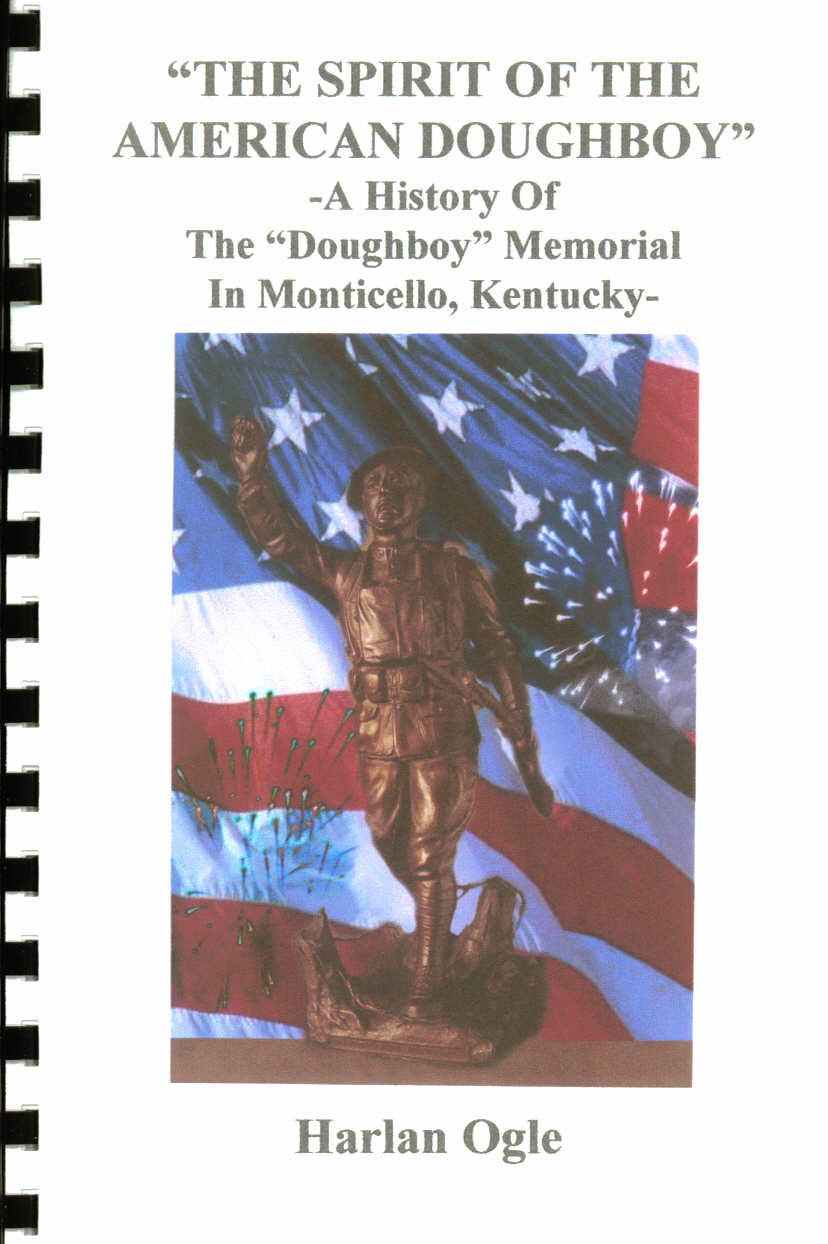 In "THE SPIRIT OF THE AMERICAN DOUGHBOY"--A History Of The "Doughboy" Memorial In Monticello, Kentucky, I attempt to show the emotions and events that led to the erection of the famous World War I memorial by the talented and gifted sculptor, Ernest Moore Viquesney.
The history of Monticello and Wayne County, Kentucky, is full of heroic acts by men and women who have served in the military. This volumn will convey to the reader a greater love of country and the efforts Americans make to provide appropriate memorials for her soldier heros.
There are 60 pages in this spiral bound book and it sells for $8.00plus $4.00 Postage and Handling.

INTERNET SPECIAL!!!!!
Books may be purchased individually
OR
you can purchase three of these books--MY KENTUCKY WORLD, SPIRIT OF THE AMERICAN DOUGHBOY, and DEEP ROOTS, RICH HISTORY (does NOT include "I'M A PEACEFUL MAN LOOKING FOR A PEACEFUL PLACE" or "I CAN READ MY TITLE CLEAR TO MANSIONS IN THE SKIES" ) for only $27.00 plus $6.00 Postage and Handling if you will mention you saw the offer on the website.
Please send all regular mail orders with payment to: Harlan Ogle 111 Bambi Circle Monticello, KY 42633
Click Here To Place An E-mail Book Order
WHAT OTHERS HAVE SAID:
"I can't wait to get your books! I'm sure they will be enjoyable. Your column makes a person think and, on occasion laugh, when everything else has went wrong that day! It's nice to see someone who helps guide others with a great sense of humor, compassion, and all around nice guy! Keep up the great work! God bless you and your family."
********************
"I look forward to reading the articles by Mr. Harlan Ogle! I love to read about his holiday and out-of-town adventures! I have never met Mr. Ogle, but I believe he is a wonderful human being."
********************
"I have so much respect for you as a person and as a minister. Every time I read your articles in THE OUTLOOK, my faith in people and religion is gloriously renewed. In you I see the love of God who is very much alive. You are an expression of His love and tolerance."
********************
"Thanks for excellence in writing and a personality that won't quit. Our community needs both!"